Swimwear Sizing Chart | Finding your perfect swimwear size.
AN HONEST SWIMWEAR SIZING CHART
Many ladies know their dress or bra size, however we don't often question what our swimwear size is. Swimwear isn't as simple as measuring for your bust size it's all about trying on various sizes, brands and styles to see which one suits your body shape. Here at Audrey's of Broadway, we stock an array of beautiful swimwear in both bikini and swimsuit styles to flatter a range of figures. We only stock reputable brands who use high-quality materials such as Lise Charmel, Empreinte and Nuria Ferrer.
Finding the perfect swimsuit is essential for each and every lady because this helps them to exude confidence whether it's by the beach or in the pool. Within this blog, we have included a swimwear sizing chart as well as a whole host of information to ensure each customer has the knowledge to make an informed decision when purchasing their swimwear through Audrey's of Broadway.
We have spoken to Gwendolen Bridge – UK & Ireland Sales Manager at Lise Charmel and all round swimwear expert to help advise our customer's swimwear purchasing decisions.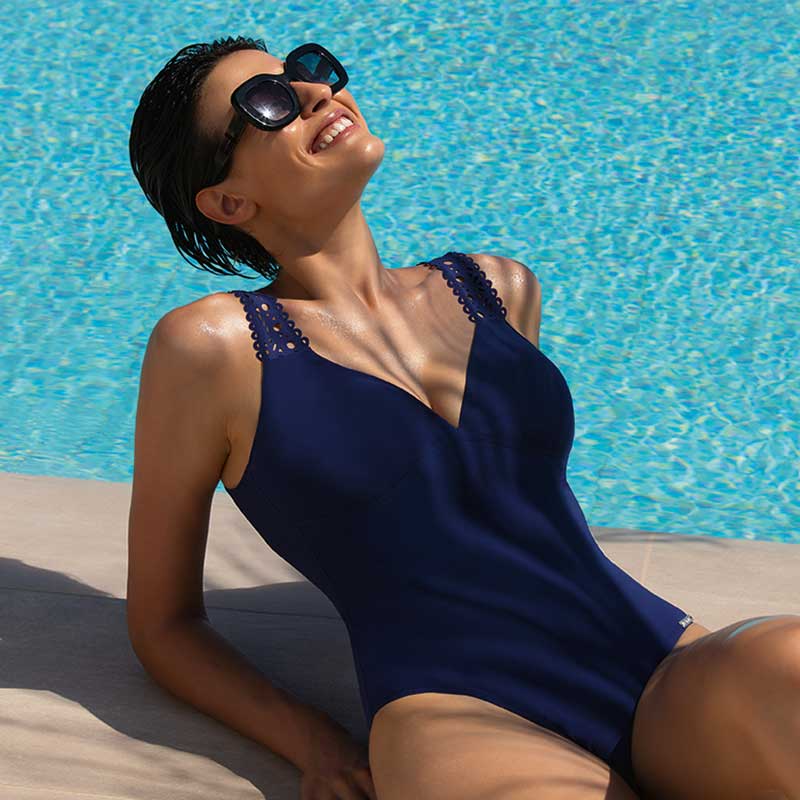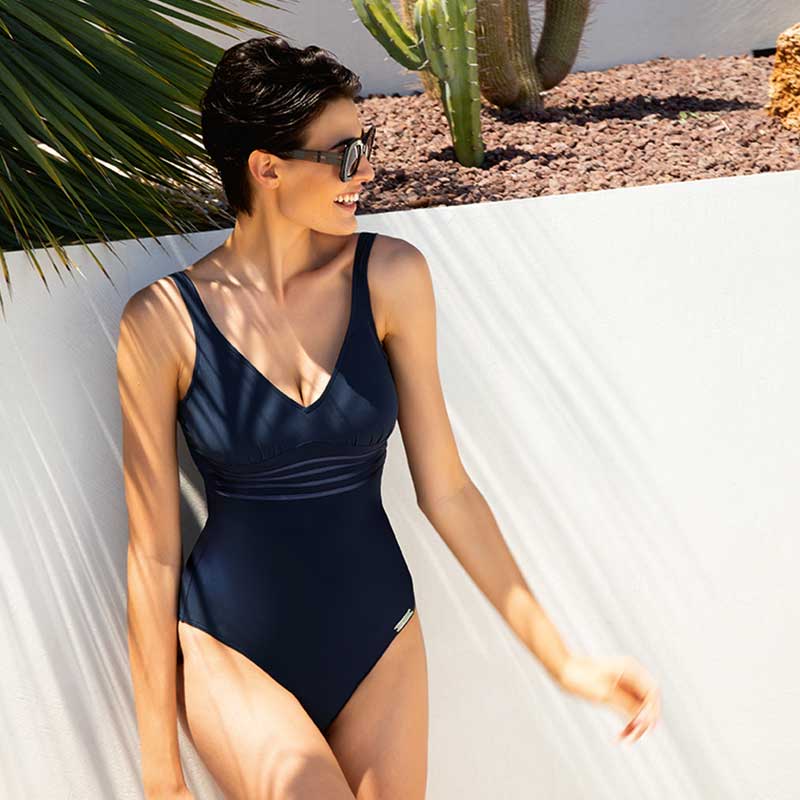 WHY IS IT SO IMPORTANT TO FIND THE PERFECT SWIMWEAR FIT?
Finding the perfect swimwear fit is so important because you need to feel confident and comfortable when swimming. Your swimwear must flatter your silhouette and provide support where necessary.
The average swimwear size chart fails to tell customers that swimwear has a different fit when it's dry in comparison to when it is wet meaning the fit should be snug when dry to ensure your swimwear will fit perfectly when wet. After all, there is nothing worse than having a saggy swimsuit. You should be conscious of these points to ensure the overall look and wearability of the product is how you envisioned.
HOW TO DETERMINE THE RIGHT SWIMWEAR SIZE?
You can't measure yourself for a swimsuit like lingerie. The best swimwear size guide is your dress size.
With swimwear, there are varying grades of lycra so the tension of elastane differs with each product. It is best to try on a range of swimwear to find your perfect fit. The bust band and clip on the back need to be comfortable to ensure there is no pressure or rubbing if the swimwear is too tight.
It's important to remember that because swimwear has lycra in it, the sizes are more forgiving!
SWIMWEAR SIZE CHART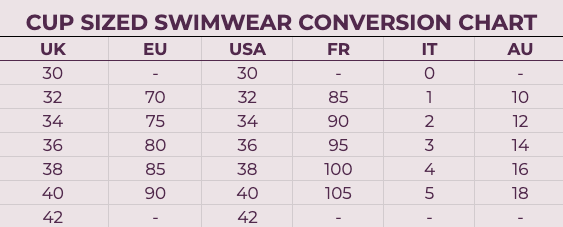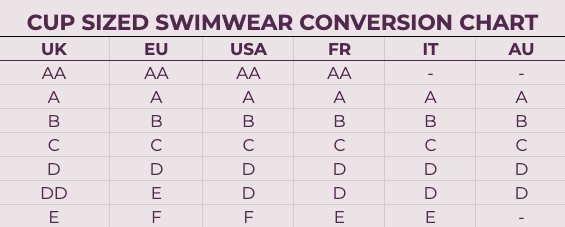 HOW TO IDENTIFY THE PERFECT SWIMWEAR FIT?
The leg height is extremely important on swimwear because it has to fit securely on the bottom and ensure there is no ride up on the leg. If there is excess material on your swimsuit when you try it on, the fit will be incorrect. The ideal fit is no excess material, gaping and wrinkling. If you cannot seem to find the correct size swimsuit or seem to be between sizes then perhaps it isn't the swimsuit size but instead the brand not suiting your figure. Each swimwear brand has a varying fit and swimwear size chart so it's important to try a range of brands before settling on one brand and size.
HOW LONG SHOULD YOU KEEP A SWIMSUIT?
Did you know that the average high-quality swimsuit only lasts a year? If you use your swimsuit once or twice a week in chlorinated or salt water, even if your swimsuit is high-quality, then you should be replacing the swimwear each year. This is why it's important to have more than one swimsuit.
Other factors that can reduce the lifespan of your swimwear is the use of sunscreen, saunas or having a high PH level (skin acidity) in your skin. The more you perspire, the more the acidity damages the swimsuit and therefore the swimsuit could last only 6 weeks. This isn't a reflection on the quality of the swimsuit but simply the materials reacting with varying levels of skin acidity. It's not something we often think about but can cause the swimsuit to become transparent over time. This is why the aftercare of your swimwear is so important. For more information, we have written a swimwear care guide.
We would recommend choosing a swimsuit with Lycra Beauty which can be found in the majority of Lise Charmel swimwear because this type of swimsuit will give you up to 20 times longer life.