Lise Charmel Swimwear | Finding your swimwear style
Introducing Lise Charmel Swimwear…
Lise Charmel is the definition of elegance in women's lingerie and swimwear. They are renowned for exceptional savoir-faire and craftsmanship combined with innovative and artistic designs. The brand was born, more than half a century ago, in the heart of the silk neighbourhood of Lyon. Over the decades, Lise Charmel has developed the ability to provide exceptional lingerie and swimwear to flatter all body types.
Here at Audrey's of Broadway, we're proud to stock such a prestigious brand. Each and every product we stock here at Audrey's has been selected knowing that each garment is high quality and elegant. Lise Charmel swimwear is like nothing else on the market. It's supportive yet sexy which gives women the confidence they truly deserve.
With summer now upon us, we have spoken to Gwendolen Bridge – UK & Ireland Sales Manager at Lise Charmel to give us an insight into all things Lise Charmel swimwear:
What sets Lise Charmel swimwear apart from other swimwear brands?
Lise Charmel have their own highly skilled craftsmen in their own workshops, with years of skill in fitting collections to flatter the female form. This is an essential part of both corsetry and swimwear. The fabrics used are chosen by an expert team that understand the importance of the sharpness of prints and the different aspects of swimwear materials.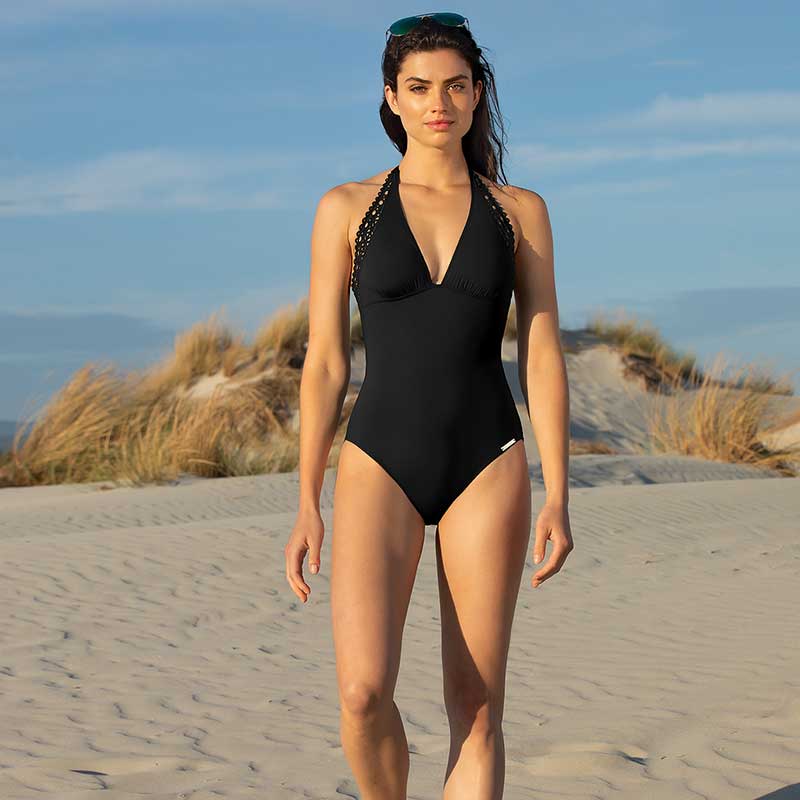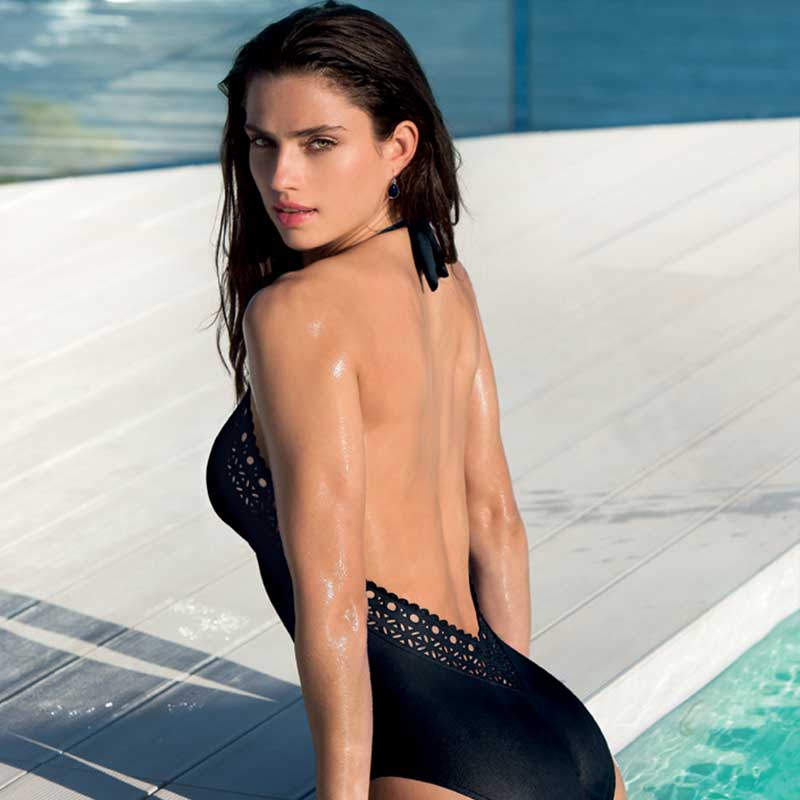 We stock Ajourage Couture & Sporty Plage, would you say these are your best-selling styles?
These lines are our best-selling permanents. The Ajourage Couture has a unique swimsuit in that it has openwork that is produced by an ultrasonic cutter that is very high quality and used by 'Haute Couture' brands. The Sporty Plage is a sculpting swimsuit with high chlorine resistance and a perfect support for anyone wishing to feel at their best in a high quality beautifully crafted swimsuit.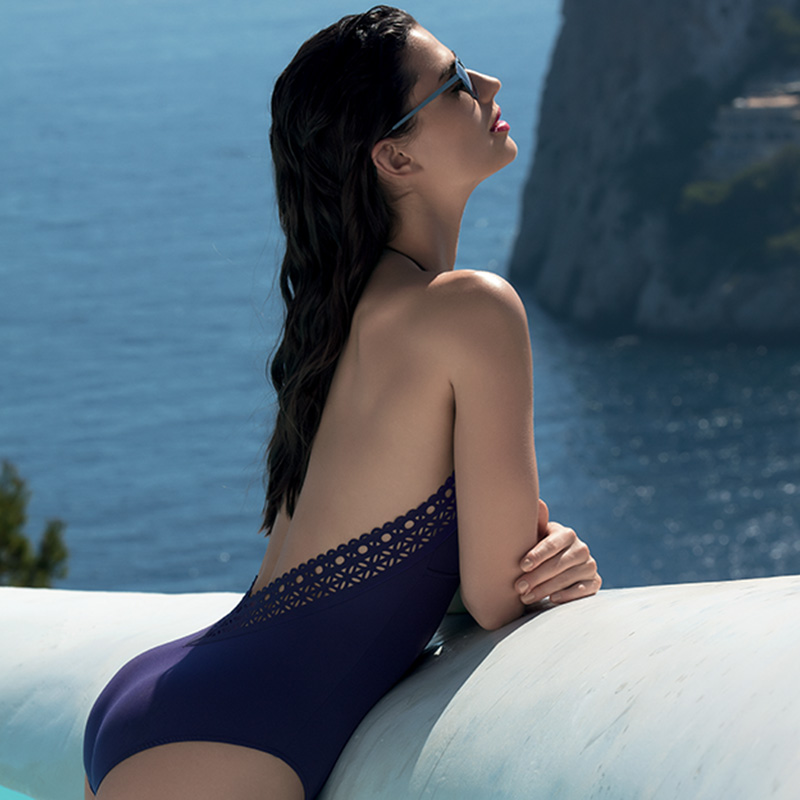 Ajourage Couture
Ajourage Couture, modern and sensual elegance with the unique know-how of Lise Charmel!
The clean cuts with openwork graphic patterns create a tattoo effect. Lycra Beauty certified, the breathable nerve mesh gently sculpts with a natural allure and allows exceptional well-being. This material protects the skin from UV rays. It guarantees good resistance of the colours to seawater and chlorine.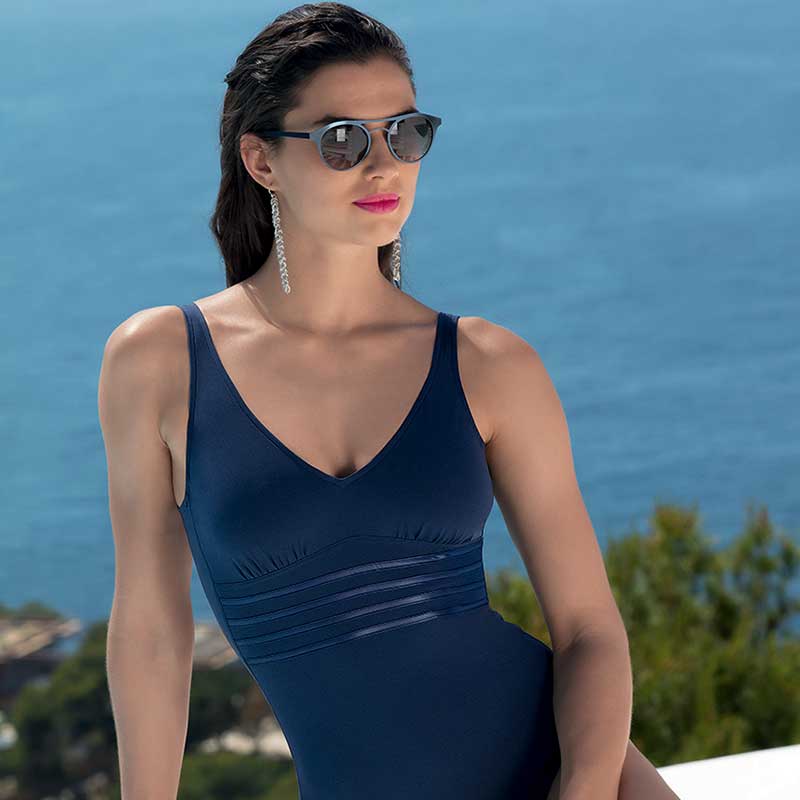 Sporty Plage
Sporty Plage, provides a contemporary sporty-chic look. This elegant swimsuit creates a sculpting and smoothing effect across the body leaving you with a beautifully balanced figure.
The contrasting matt and satin materials coupled with smooth colours create movement in all the right places. With Lycra Beauty and a satin trim, this swimsuit provides the perfect fit.
In your experience what do you recommend to look for when choosing a swimsuit/ bikini?
Quality and cut are the key elements in a swimsuit. You need to invest in the best quality you can, go for higher-end Lycra fibres, look at the lining and bust support to ensure that they will last. Think about how you will be using it, in chlorine, for spas, aqua-gym, beach, sunbathing etc. and choose with this in mind. The cut needs to both enhance the look of your silhouette and remain in place. This means that having a professional fitter helps you perfect your beach body look. They can help you choose a bikini top that offers the support and coverage you need to feel at your best. The cut will visually flatter your form when chosen correctly; choose a higher leg if you have short legs to give the impression of height, have an underwire bikini to support a larger bust and keep it in place, choose a plunge neck one piece to create a slimmer silhouette.
Where are your fabrics sourced and are there different grades of lycra?
Many of the Lycra swimwear fabrics Lise Charmel use come from their European factory in Ireland, however they are produced all over the world. Lycra ensures the quality of the elastin in the swimsuit which provides you with stretch, comfort and durability.
Lycra Beauty provides an ultra-soft luxurious feel.
Lycra Xtra-Life provides higher chlorine resistance.
Often a stunning print needs a good fabric base that allows for a high definition print that remains bright even after frequently being worn in the water and exposed to the sun. All of these things mean that you should rely on the expertise of the designers for the choice of fabrics as they have studied each element of the swimsuit down to the material used on any of the embellishments (ie. clasps that don't retain the heat so you avoid burning yourself when sunbathing). In my experience, you can trust the knowledge of the design team at Lise Charmel to have chosen the perfect fabrics for you and then trust your fitter to navigate you to get the swimsuit that supports and flatters your silhouette. I should add that increasingly fabric choices are made with sustainability in mind and this plays its role in the choice of materials used, recycled fibres are now used more than before and the environment is taken into account in all of the processes of production.
What is the best way to care for swimwear, so as to ensure it is looked after?
Avoid over exposing your swimsuit to the following elements: Sun, Salt, Sunscreen and Chlorine.  Make sure you wash your swimsuit in fresh water after a swim or after sunbathing, dry it in the shade not in the sunshine.  Also make sure you wash the elastic around the straps, legs and neckline well as this is where the elastic tends to wear first.
What is your most supportive range and how does your sizing work?
In terms of fabric, the Sporty Plage range is very supportive. We would then recommend choosing an underwired one-piece or bikini where we go up to a G cup in our Ajourage Couture bikini. If we make the size, it has been studied and designed with all the attributes necessary to support and enhance your look.
How would you describe Lise Charmel's swimwear in a few words?
Stunning, chic and crafted to perfection.
What is the inspiration behind the swimwear collection?
Lise Charmel always aim to work their magic to enhance the female form and in swimwear, as in corsetry, this is our first inspiration.  In the iconic lines stocked at Audrey's of Broadway, you can see the perfect cuts and fabric choices, so when worn show the customer instantly that they are wearing a Lise Charmel swimwear piece.
Everything Lise Charmel stands for is why Audrey's of Broadway is so proud to stock Lise Charmel swimwear. Gwendolen's insight truly shows their passion for creating supportive yet sexy swimwear. If you're looking to find the perfect swimsuit or bikini, please feel free to get in touch where we can advise you on the perfect style to flatter your figure.
Best Wishes,
Audrey x